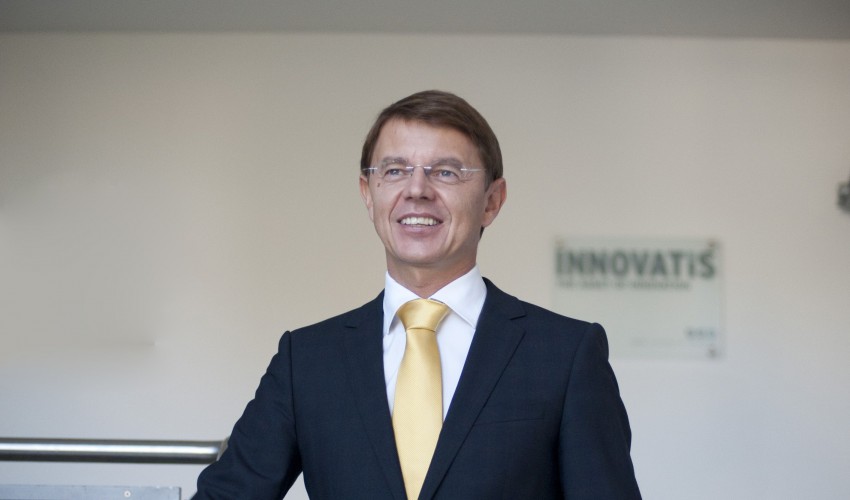 An Interview with Erwin Lasshofer
|
Q: What means the name INNOVATIS?
Erwin Lasshofer: INNOVATIS stands for innovation. INNOVATIS provides all services a client can expect of modern asset management – total independence from banks, transparency, security, flexibility, speediness, personalized customer care – additionally INNOVATIS adopts a new approach by combining the structuring of financial products, issued by first class financial institutes, with active asset management. The client profits from the One-Stop Service of INNOVATIS offering asset management of private and corporate assets as well as real estates, taking into account also taxation aspects and succession arrangements. INNOVATIS operates in cooperation with a vast global network of banks, insurance companies, tax and legal advisors.
Q: When INNOVATIS was established?
Erwin Lasshofer: INNOVATIS was founded in Germany in 2001. Meanwhile several independent INNOVATIS companies were established in different countries, for example in Switzerland, Austria and Guernsey.
Q: Who are INNOVATIS clients?
Erwin Lasshofer: Our clients are institutional investors as well as family offices, asset managers, companies and high net-worth individuals; especially individual clients profit of financial solutions, that very often are reserved for institutional clients.
Q: In which business areas INNOVATIS operates?
Erwin Lasshofer: In the finance sector INNOVATIS is focused on asset management and the structuring of financial products.
Q: How does the client profit from the combination of asset management and structuring of financial products as a One-Stop Service by INNOVATIS?
Erwin Lasshofer: The advantages for the clients are outstanding: firstly for the composition of the portfolio and secondly for its active management.
The portfolio will become assembled with financial products tailor-made by INNOVATIS to the specific needs and requirements of each individual client in regards of structure, security, maturity and currency. Financial products and solutions normally only accessible to key account clients and institutional investors because of the high minimum volumes, are available also to qualified investors due to the large number of managed accounts.
Securities and portfolios are constantly supervised by specially developed software. Constant monitoring and the resulting active management is a special added value, whereas we also give importance to a cost-sensitive management.
I am convinced that it is of great advantage to understand not only the financial product but also the original idea behind, that leads to the issuance of the financial product in its particular structure. We structure several new financial products every week and provide exact documentation about the investment idea for each single product made by INNOVATIS. This enables us to do a permanent evaluation of the products judging whether the original idea, that led to the issuance of a bond, a CLN or a structured product, is still valid or whether the market or other parameters have changed and therefore require direct actions such as top-ups, sales or restructuring.
Only the structurer itself has the possibility for such actions (apart from the usual trades on the secondary market).
The combination of structuring and asset management needs extensive know-how, an appropriate company structure and a vast network of banks. In my opinion the innovation of a vertical integration in the financial sector is of immense advantage and we are able to offer it to our clients.
Q: How can be invested in INNOVATIS asset management?
Erwin Lasshofer: A client can participate in INNOVATIS asset management with an own managed account held in his own name, with a cost-optimized managed certificate issued by a major bank or with a fund-based solution. Qualified investors also can purchase single products.
Question: Which possibilities the client has to control his money invested in INNOVATIS asset management?
Erwin Lasshofer: On the one hand our clients periodically receive the account slips direct from the custody bank and on the other hand they get a periodical reporting by INNOVATIS. In case of managed accounts the client has the possibility of additional control by an e-banking access.
Q: How flexible the client can dispose of his money?
Erwin Lasshofer: Depending on the investment solution a client has the possibility of daily disposal, for example in the case of managed certificates, or a maximum period of notice of three months for an investment according to an asset management agreement. Part withdrawals or part investments are possible at any time.
Q: Is INNOVATIS also active in other business fields?
Erwin Lasshofer: The INNOVATIS companies provide different services; for example they work in the fields of consulting and privat equity & real estate. Please find more information on our websites: www.innovatis-suisse.ch and www.innovatis-organization.com